Accessability To Broadley Barn Cottages
Parking
Parking just outside the door of Oak Cottage gives the guests convenient access into the cottage. The ground is level but uneven due to a cobbled surface.
Oak Cottage Access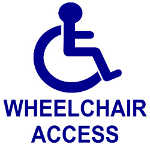 To access oak cottage you will need to negotiate two steps, the first step is 12cms high and 30cms deep, the second step is 11cms high with a woodern doorstop of 4cms high. The doorway is 1m wide, and leads into a corridor 112cms wide. All the living area is on a single level and access to the shower room is via the bedroom area. The doorway to the toilet and shower room is 88cms wide. The shower has no steps and the floor is tiled. The toilet is in a recessed area with resticted access from the side. A convenient hand rail is close to the toilet for added support.
Flagstone Cottage Access
Unfortunately the other cottage, Flagstone Cottage is unsuitable for guests using a wheelchair, but ideal for parties of up to 5 persons.
If you would like more information about accessability, please contact me.